More and more people are falling into extreme poverty, which shows that President Major General Muhammadu Buhari (ret.) has failed to turn the economy around. The National Bureau of Statistics 2022 Multidimensional Poverty Index shows that 133 million Nigerians, or 62.9% of the population, are poor because they don't feel safe, don't have enough money, and don't have enough access to electricity. Buhari and the other players in the regime need to wake up from their slumber of denial and come up with fresh, practical plans to stem the tide of poverty.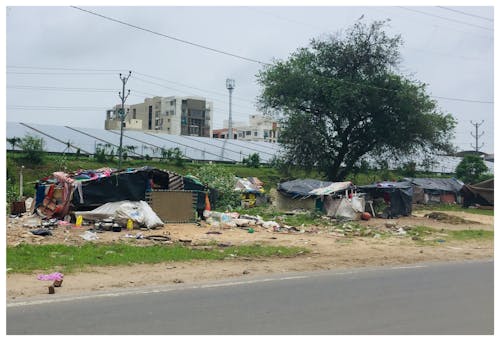 The NBS has really just put numbers to the terrifying things that Nigerians have been through. A majority of Nigerians "are multidimensionally poor and cook with dung, wood, or charcoal, rather than clean energy," the survey found after looking at health, living standards, education, security, and unemployment. At the national level, we also see severe shortages in access to safe drinking water, medical services, nutritious food, and stable housing.
The MPI survey, which was conducted between November 2021 and February 2022, included 56,007 homes from all 36 states and the District of Columbia.
Although poverty is pervasive across the country, it disproportionately affects those living in rural areas, women, and children: 67.5% of children ages 0 to 17, and 51% of the poor in the country, are multidimensionally poor. It's also important to note the vast range of regional and geographical differences. Ninety percent of children living in poverty are found in rural regions, where 70 percent of the population dwells. Because of this, many children in the countryside don't get the intellectual stimulation that is thought to be important for their early development. This is not surprising, since many of these areas lack infrastructure. 72% of the rural population is poor, but only 42% of the urban population is. The severity of poverty is also 42% in the rural population, but it is only 37% in the urban population.
The North East has the highest rate of multidimensional poverty (76.5%), the North West has the second-highest rate (75.8%), and the North-Central has the third-highest rate (66.3%). At 62.6%, the poverty rate in the South-South region is also high. At 40% and 49%, the poverty rates in the south-east and south-west regions, which have the lowest rates in the country, are still higher than the worldwide average.
People have figured out what makes people poor and have come up with solutions that work. Unfortunately, the Buhari dictatorship continues to ignore reality, follow bad policies, and avoid the obvious solutions that would free up resources and create new jobs. The stifling, centralized structure of the government is kept in place by waste, corruption, and incompetence on the part of state governors. No independent, all-encompassing plans have been made for economic self-sufficiency, production, private investment, job creation, and reducing poverty. As you can see, this is a certain way to go broke.
It's hard to believe Buhari's empty pledge that he'll end poverty for 100 million Nigerians by 2030 (10 million annually starting in 2020). With 87 million people impoverished in 2018, Nigeria surpassed India as the world's poverty capital; by early this year, the figure had increased to 95.1 million. The World Bank says that between January and September of this year, an extra three million Nigerians fell into extreme poverty.
The National Poverty Eradication Programme, the Youth Empowerment Scheme, and the Rural Infrastructure Development Scheme were all started by the previous government. The Buhari government also started the National Social Investment Programme, which includes N-Power, the Conditional Cash Transfer, the Government Enterprise and Empowerment Programme, the TraderMoni scheme, and the Home-Grown School Feeding Programme. Individually, they seek to promote self-employment and equalize resource allocation to disadvantaged groups, including kids, young adults, and women.
There has been no success; on the contrary, poverty and unemployment are on the rise. Due to corruption and partisanship, the government's claim that it gave $300 million to 10 million families (at N5,000 per month) in the four years leading up to January 2022 has had little to no effect. New projections suggest that over 7.0 million additional people will fall into severe poverty by the end of the year. Some experts predict that the current unemployment rate of 33.3% will rise to 40% by December; Statista calculates that 53.4% of the young population is now unemployed.
Also, the COVID-19 epidemic, unstable global markets, floods, and instability have all had an effect on the economy of every country, including Nigeria. But it consistently makes poor policy decisions. Oxfam states that "poverty and inequality in Nigeria are not due to a lack of resources but to the ill-use, misallocation, and misapplication of such."
Bloomberg predicts that unless changes are made, Nigeria will soon be home to 25% of the world's impoverished; Buhari and the governors need to move quickly to prevent this. The experts agree that fast and long-lasting economic programs are needed, as well as basic health care and sanitation, education, access to jobs, more equality and entrepreneurship, more power for the very poor, and more access to information and communication technologies.
In a 2019 analysis, the Borgen Project, a non-profit organization, said that the main things that helped Ghana, Norway, Singapore, Bolivia, and South Korea reduce poverty were spending on education, diversification, export promotion, mining, getting private investment, and sticking to national development plans. The Brookings Institution says that China was able to get 800 million people out of poverty in 30 years because its economy grew steadily and in stages, starting with agriculture, industrialization, export promotion, infrastructure development, and social policies that focused on getting rid of poverty, creating jobs, innovation, and technology.
For immediate success, Nigeria needs to prioritize the implementation of efficient, honest, and transparent privatization; the radical improvement of the ease of doing business to attract foreign direct investment; the implementation of effective policies to promote start-ups, SMEs, agriculture, mining, and ICT; and the reform of its revenue and tax collection machinery.
Infrastructure, like roads, water systems, hospitals, and schools, should be a top priority, and corruption should be stopped. Both the federal and state governments should encourage investments (both domestic and foreign direct) in the transportation sector, which includes railroads, electricity, ports and airports, mining, agriculture, and industry. A solution must be found to the power struggle. Governing bodies should cut their spending considerably to free up money for social investment. Fear has to be extinguished.
Funding for rural infrastructure should be a top priority for the states, and they should create their own economic programs that put an emphasis on private investment, agriculture, small and medium-sized businesses (SMEs), job creation, and exports. It is imperative that governments work tirelessly to eradicate poverty.